Radiators and Auto Air Conditioning Port Macquarie
Fully trained and equipped for R1234YF and R134A air conditioning systems. Also servicing Laurieton, Taree, Wauchope, Wingham and surrounding areas.
Contact Natrad Port Macquarie Radiator Specialists
Got any questions about our products and services? We're happy to help with your queries. Fill out your details below and we'll get in contact with you shortly.
(02) 6583 2004
More Information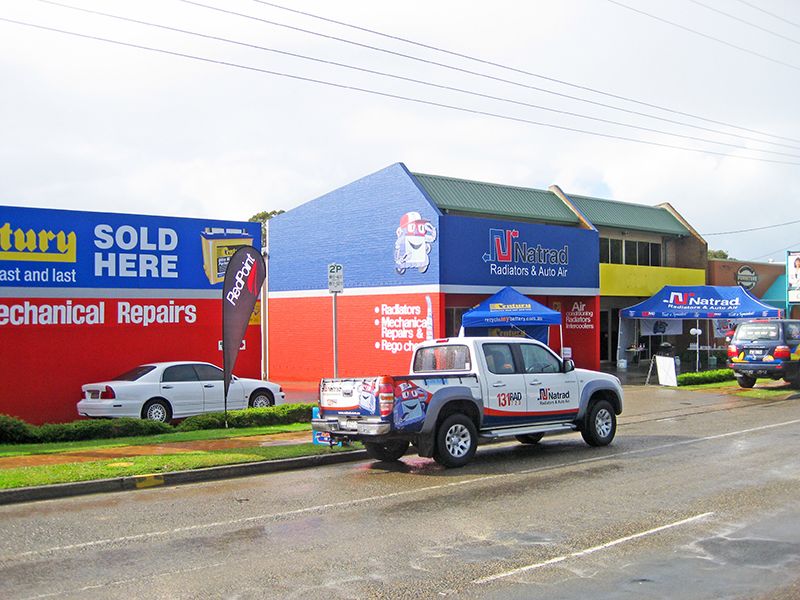 The Hastings region Radiator and Air conditioning specialists using the latest equipment for late model vehicles using R1234YF refrigerant.  Natrad Port Macquarie's Staff are trained and certified to service all your  air conditioning needs
Operated by Phil and Noelene Anderson previously Andersons Radiators.
Your local specialist for all your vehicle's cooling requirements servicing the Taree, Wingham, Forster, Laurieton and Wauchope regions.
With the facilities to ensure your radiator is working optimally we can flush, inspect, repair and re-core old parts to get your vehicle and cooling system working at it's best.
Stocking a large range of products from radiators, intercoolers, oil coolers and air conditioning systems through to car battery replacements, starter motors and alternators.
We offer full mechanical and air conditioning services using the latest equipment for both R1234YF and R134A, for passenger cars, 4x4s, performance vehicles or heavy duty trucks and all earth moving equipment.
We are part of the only network of radiator replacement and repair specialists in Australia that can provide a manufacturer-supported 3-Year Nationwide Warranty. Giving you peace of mind no matter where you travel.
Are you a trade customer? Natrad is a Capricorn preferred supplier so our trade customers can receive extra benefits. Speak with us today with any cooling, mechanical or air conditioning needs.
Natrad Port Macquarie

93 Hastings River Drive
Port Macquarie
NSW 2444

(02) 6583 2004

More Information

Natrad Kempsey

111 Smith Street
Kempsey NSW
Australia

(02) 6563 1303

More Information

Natrad Armidale

149 Miller Street
Armidale
NSW 2350

(02) 6772 5256

More Information
Capricorn Preferred Supplier

Australian Automotive Aftermarket Association (AAAA) Member

2012 Natrad State Franchise of the Year - NSW/ACT

Trained, Certified and Equipped for R1234YF and R134A. AU License Number: AU 04574
What other services do you offer?

We offer repair maintenance services on radiators, oil coolers and intercoolers. We are the Region's specialist repairer for both R134A and R1234YF air conditioning servicing. With qualified technicians we offer full mechanical maintenance, safety checks and log book servicing.

How long have you been a Natrad Franchise?

We have been involved in the Natrad Franchise since 1991 and have seen many changes to the industry over that time and how the Natrad network has developed into the strong brand it is today.

How long have you been in the radiator repair industry?

This business has been in the radiator industry since the late 1960s and the current owners have been running the business since 1984. They many years of experience qualify them as specialists in any cooling system.

List what qualifications you and the team have?

With over 30 years of experience in the industry we have the skills and expertise to ensure your vehicles stays cool on the road. Our team of 4 are qualified in automotive cooling and mechanical and also we also hold our air conditioning license.

Do you offer a loan vehicle / drop off service?

We offer a drop off and pick up service around the local area to help you get the rest of your day back on track.

Do you have trusted relationships with any businesses around you?

We are regularly dealing with many businesses in the area and have built trusted relationships to offer quality cooling solutions. You know if they rely on us, you can too.
Natrad Port Macquarie is a part of
We provide specialist repair, maintenance and replacement parts on radiator and auto air conditioning systems for cars and trucks of any size.

Tell Me More