Radiators Moorebank
Natrad Moorebank - Your Trusted Radiator Specialist Servicing Liverpool, Bankstown, Hoxton Park & Campbelltown
Contact Natrad Moorebank Radiator Specialists
Got any questions about our products and services? We're happy to help with your queries. Fill out your details below and we'll get in contact with you shortly.
(02) 9600 8238
More Information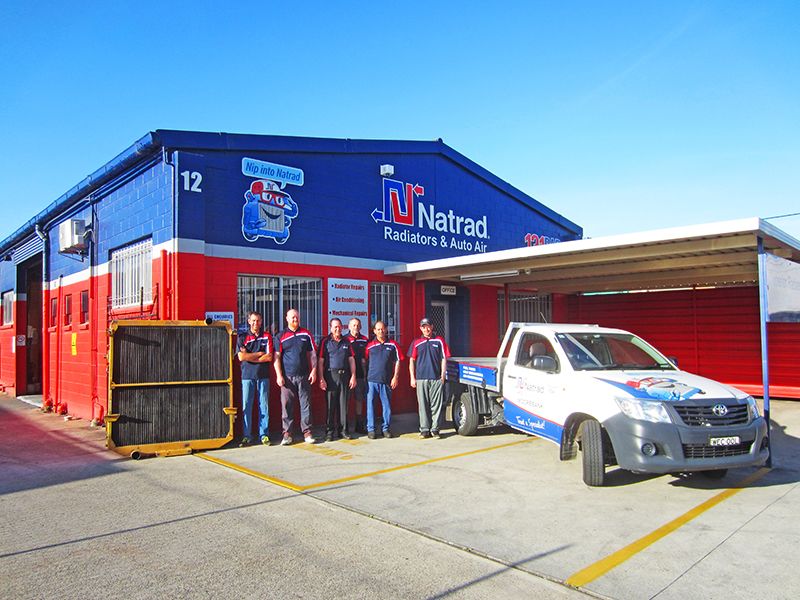 Natrad is the radiator specialist trusted by people in the Liverpool, Moorebank and Greater Sydney areas. Natrad Moorebank is your Heavy Duty Specialist for heavy vehicle applications including truck, bus, earthmoving and mining. We're also the team to trust with your car, whether it's your classic pride and joy or a daily run-about.
Our branch has been part of the Natrad Franchise group since 2003 and boasts over 150 years of experience among 6 highly-dedicated and qualified staff, including radiator repairers and welders.
300 regular customers from car, truck and heavy equipment companies are testament to fact that Natrad Moorebank don't compromise on quality or service. It's no wonder Natrad Moorebank have won three State and two National Natrad Franchise of the Year Awards as well as an MTA Award for Excellence.
We are part of the only network of radiator replacement and repair specialists in Australia that can provide a manufacturer-supported 3-year nationwide warranty. Our Capricorn supplier status means that automotive trade clients can receive extra benefits.
We service customers from the greater Sydney area including surrounding suburbs.
Natrad Moorebank

12 Seton Road
Moorebank
NSW 2170

(02) 9600 8238

More Information

Natrad Granville

137-139 Parramatta Road
Granville
NSW 2142

(02) 9637 3017

More Information

Natrad Marrickville

10 Chapel Street
Marrickville
NSW 2204

(02) 9557 1079

More Information
Capricorn Preferred Supplier

Australian Automotive Aftermarket Association (AAAA) Member

2013 Natrad State Franchise of the Year - NSW/ACT

2015 Natrad State Franchise of the Year - NSW/ACT

2016 Natrad State Franchise of the Year - NSW/ACT

2015 Natrad National Franchise of the Year
What other services do you offer?

We offer all manner of vehicle cooling solutions including custom aluminium fabrications and radiators for vintage cars with cathedral or "V" shaped header plates.

How long have you been a Natrad Franchise?

We've been serving Moorebank radiators under the Natrad name since 2003.

How long have you been in the radiator repair industry?

Along with a strong team the founder Mark O'Sullivan has been in the heat exchange and repair industry for over 43 years and still going strong.

List what qualifications you and the team have?

We have over 150 years of combined experience between all our service staff at Moorebank, including welding and fabrication certificates. We are 3x Natrad State Franchise of the Year Award winners and 2x National Franchise of the Year winners. We've also won an MTA Award for Excellence.

Do you offer a loan vehicle / drop off service?

We can organise a loan vehicle for you or a drop off and pick up service.

Do you have trusted relationships with any businesses around you?

Some of our 300 regular customers include businesses like Mack trucks, Scania Trucks, Scott's Refrigerated Freightways, Peter Warren Automotive, AHG Group (McGrath Holden) and Royan Truck & Trailer Repairs.
Natrad Moorebank is a part of
We service a wide range of vehicles that are built for Highway Transport, Agricultural, Mining, Road, and Earthmoving tasks.

Tell Me More

We provide specialist repair, maintenance and replacement parts on radiator and auto air conditioning systems for cars and trucks of any size.

Tell Me More