Car Service, Mechanic, Radiators & Auto Air Conditioning Wagga Wagga
Your Trusted Auto Servicing and Radiator Specialist in Wagga, Gundagai, Tumut, Temora, & Young
Contact Natrad Wagga Radiator Specialists
Got any questions about our products and services? We're happy to help with your queries. Fill out your details below and we'll get in contact with you shortly.
(02) 6925 4277
More Information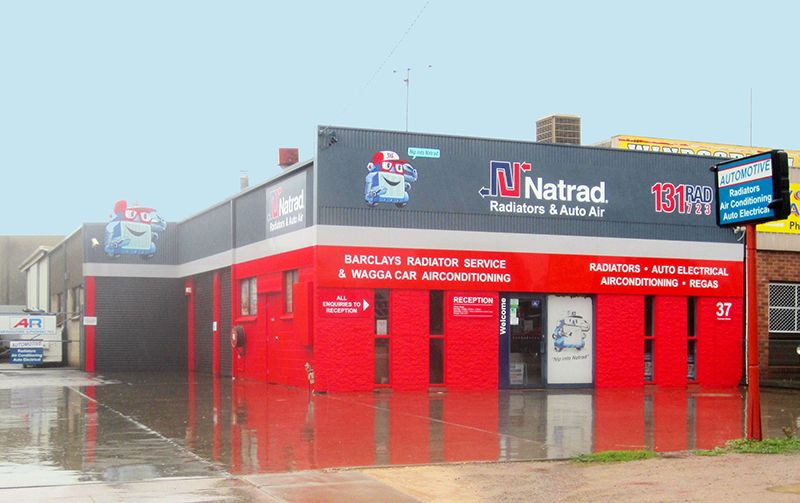 Natrad is the name that the Riverina region relies on for all cooling requirements. Natrad Wagga are specialists in all vehicle radiator and air conditioning systems, and service Wagga and the surrounding areas of Gundagai, Tumut, Temora, and Young. The highly experienced team have a strong history dating back to 1946 when they first opened their radiator store. Since then they have grown and adapted as car technology changed and have prided themselves on delivery up to date industry knowledge and service.
As specialist in vehicle cooling solutions, we offer system checks and repairs on radiators, intercoolers, air conditioning system including refrigerant gas, diagnostic testing and electrical work. We have the latest facilities and tools to overhaul your engine cooling, air conditioning or electrical systems.
We are a family run business with good values and aim to always ensure quality customer service. With a community focus we love supporting and championing local sports clubs and charities.
We are part of the only network of radiator replacement and repair specialists in Australia that can provide a manufacturer-supported 3-year nationwide warranty. Our Capricorn supplier status means that automotive trade clients can receive extra benefits.
Natrad Wagga

37 Pearson Street
Wagga Wagga NSW
Australia

(02) 6925 4277

More Information

Natrad Albury/Wodonga

20 Huon Street
Wodonga VIC
Australia

(02) 6056 2433

More Information

Natrad Griffith

26-28 Altin Street
Griffith NSW
Australia

(02) 6962 6996

More Information
Capricorn Preferred Supplier

Australian Automotive Aftermarket Association (AAAA) Member

2019 Natrad State Franchise of the Year - NSW / ACT

AU License Number: AU 35891
What other services do you offer?

We offer all range of automotive cooling solutions, including air conditioning servicing and repairs. We also offer electrical repairs and work for a full comprehensive service for our customers.

How long have you been a Natrad Franchise?

We've been in the Natrad Franchise for over 30 years and have seen the industry change and adapt to new technologies.

How long have you been in the radiator repair industry?

With over 45 years' cooling experience, we have witnessed the industry and technology change and have adapted to ensure we have the latest equipment and services for our customers.

List what qualifications you and the team have?

Within our team of 6 staff we have a variety of qualified technicians, they include radiator repairers, air conditioning technician and auto electricians, and we also hold our Arctick refrigerant handling license. At Natrad Wagga we aim to continually train our staff and keep up to date with industry developments.

Do you offer a loan vehicle / drop off service?

For the convenience of our customers we have a drop off and pick up service to give you a full round service.

Do you have trusted relationships with any businesses around you?

Over the years we have developed strong relationships with local businesses in and around Wagga Wagga. These businesses trust us to deliver quality cooling and air conditioning services, so this means you can too.
Natrad Wagga is a part of
We provide specialist repair, maintenance and replacement parts on radiator and auto air conditioning systems for cars and trucks of any size.

Tell Me More

Keep your vehicle running smoothly with our Autocare service that includes engine oil and filter changes, logbook servicing, brake, battery and tyre checks.

Tell Me More