YOUR NEAREST NATRAD
Enter your postcode to find your nearest Natrad location.
Why Choose Natrad?

Natrad is Australia's most trusted name in vehicle heating and air conditioning
The largest network of heating and cooling workshops in the country

Access to a big range of heating and air conditioner replacement parts.

A 3-year Nationwide Warranty on all radiators
About Us
Natrad's heritage dates back to 1922 with Australian radiator manufacturing. We have the largest network of specialist radiator workshops in Australia, so it's easy to find your nearest Natrad
We're the market leaders in radiator and air conditioning repairs, replacement, and maintenance. We service a diverse range of vehicles including cars, 4WDs, trucks, high performance vehicles, and heavy machinery.
We have access to Australia's most comprehensive range of radiator and cooling system parts. No matter if it's big or small, we have the quality parts to keep you and your vehicle cool.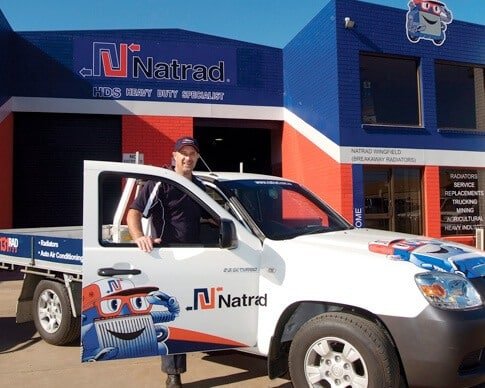 Heavy Duty Vehicle Specialists
When your heavy duty vehicle's cooling system is underperforming, who do you call? Our Heavy Duty Specialist workshops provide a range of industrial and heavy duty vehicle cooling solutions. Find your local Natrad Heavy Duty Specialist workshop and book an appointment today.
Your nearest Natrad
Find your closest Natrad workshop and book your free inspection today
Industry Leaders
At Natrad, we take pride in offering high quality cooling parts. We have many industry-leading car radiator brands and can supply custom built Australian-made Adrad radiators for you upon request.

What Our Customers Say
"Very professional staff. The work was carried out as required and the cost ended up less than the quoted amount. The staff at Natrad Fyshwick clearly explained the warranty and the annual inspection service. Also arranged complimentary transport to work for me, very happy."

S. Harper

"Excellent service. Thorough inspection of air conditioning in my car and the problem solved virtually straight away. So impressed the staff at Natrad Raymond Terrace picked up the problem (something my mechanic had inadvertently done) and it didn't cost a fortune to fix. Will only ever go here in future. Thanks guys."

J. Unicomb

"After taking my 2007 Commodore back to the Holden dealer many times and being told that the air conditioner was fine, I finally got some good advice to take it to Natrad at Eaglehawk. They were fantastic, and I'm sure that the amount of time they spent on it didn't reflect in the final bill. I feel like I have a new car. I am now telling anyone who will listen that if they have any air conditioning problems that Natrad Eaglehawk is the place to go. Thanks Glenn and the team."

L. Jones

"We would just like to commend your company on the level of service, communication during the job and overall professionalism regarding our vehicle. It is a testament to the fact that your staff at the Natrad Whyalla store have the skill sets required to repair and maintain the air conditioning unit fitted to our older model vehicle. Thank you for your efforts."

J. Hardyman
Contact Us
Got any general queries about our business? Fill out the form below, and we'll get back to you shortly.
Send enquiry
Got any questions about our heating and cooling services?
Ask us, and we'll get back to you soon.