Coolants & Fluids
Coolants and antifreeze for Australian conditions
Your nearest Natrad can source and install premium coolant products.
Exceptional Coolant Products Formulated to Protect Your Engine
Natrad workshops stock and install Adrad coolants that are formulated for Australian conditions. Adrad coolants exceed vehicle manufacturer specifications and Australian standards for engine coolants.
Our mechanics can identify the right coolant products to protect your vehicle's engine. Customers can also take advantage of a 10% parts discount on the normal cost of parts fitted to your vehicle during this service.
Coolant Products We Supply
Antifreeze
&

Antiboil Coolants
These coolants are ideal for petrol, diesel, and gas engines. You can expect a service life of up to 8 years or 250,000kms.
Attaching to the metal surfaces of your engine, our organic corrosion inhibitors form a protective barrier. This barrier protects your engine from corrosive reactions.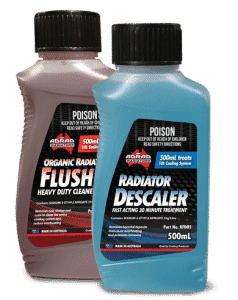 Our superior range of flush and descaler agents work hard to remove contaminants and deposits that build up in your engine's cooling system over time.