Radiators and Auto Air Conditioning Wingfield
Natrad Wingfield - Your Trusted Radiator and Cooling Specialist
Contact Natrad Wingfield Radiator Specialists
Got any questions about our products and services? We're happy to help with your queries. Fill out your details below and we'll get in contact with you shortly.
(08) 8347 2350
More Information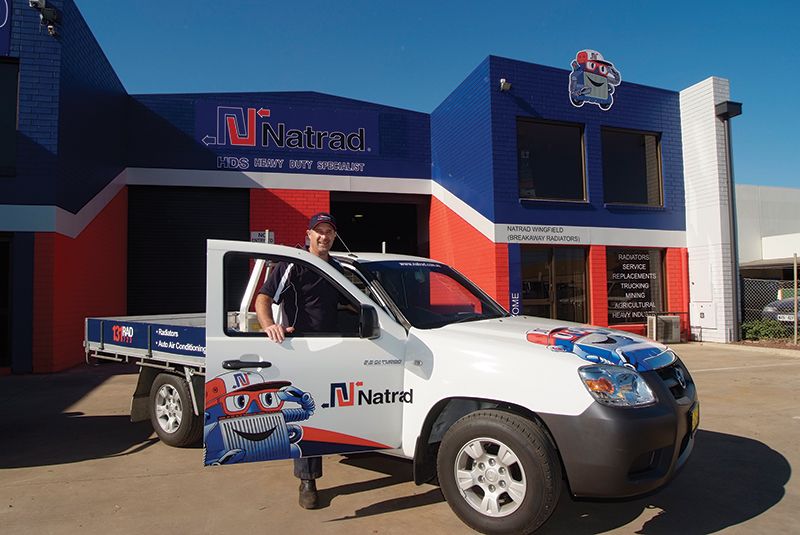 The Natrad Wingfield store is your go-to store for all your heavy duty cooling needs in and around Adelaide. The team of 6 staff have over 120 combined years of experience working in vehicle cooling systems.
Specialists in heavy duty cooling Natrad Wingfield service and repair radiators for trucks and fleet vehicles, agricultural machines, mining applications and more. Services to the cooling system include flushing and cleanouts, repairs, recores and fabrication. Speak to us about any large cooling need.
We strive to offer knowledgeable and experienced service with quality products and workmanship. We are part of the only network of radiator replacement and repair specialists in Australia that can provide a manufacturer-supported 3-year nationwide warranty.
Natrad Whyalla

13 Sharp Street
Whyalla
SA 5600

(08) 8645 2966

More Information

Natrad Port Lincoln

Shop 1 / 13
Mortlock Terrace
Port Lincoln

(08) 8682 2649

More Information

Natrad Mildura

67 Orange Avenue
Mildura
VIC 3500

(03) 5023 5248

More Information
Capricorn Preferred Supplier

Australian Automotive Aftermarket Association (AAAA) Member

2014 Natrad State Franchise of the Year - SA
What other services do you offer?

We specialise in any heavy duty and industrial cooling needs, whether that be for your fleet truck, through to your large heavy mining vehicle, we can service and repair any size radiator to keep your engine cool.

How long have you been a Natrad Franchise?

We have been involved in the Natrad franchise since 2011 and know that you can trust the network of specialists to keep you cool on the road.

How long have you been in the radiator repair industry?

We have been in the radiator repair industry for over 25 years and between the staff have over 120 combined years of knowledge and expertise.

List what qualifications you and the team have?

The combined years of knowledge has led us to become specialists in the cooling field. We have the expertise and know how to undertake any sized job.

Do you offer a loan vehicle / drop off service?

For customers convenience we do offer a drop off service.

Do you have trusted relationships with any businesses around you?

Over the years we have worked with many businesses to keep their transport vehicles on the road. We also work alongside a local air conditioning business to provide full heating and cooling services.
Natrad Wingfield is a part of
We service a wide range of vehicles that are built for Highway Transport, Agricultural, Mining, Road, and Earthmoving tasks.

Tell Me More

We provide specialist repair, maintenance and replacement parts on radiator and auto air conditioning systems for cars and trucks of any size.

Tell Me More