Radiators and Auto Air Conditioning Eaglehawk/Bendigo
Your Trusted Radiator and Cooling Specialist in Eaglehawk/Bendigo, Castlemaine, Heathcoate, Kyneton, & St Arnaud
Contact Natrad Eaglehawk/Bendigo Radiator Specialists
Got any questions about our products and services? We're happy to help with your queries. Fill out your details below and we'll get in contact with you shortly.
(03) 5446 7385
More Information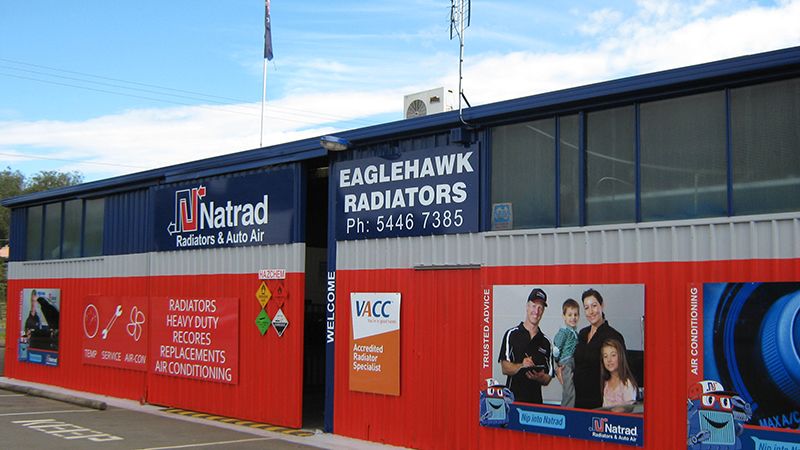 Natrad Eaglehawk is your local vehicle cooling specialists for the region surrounding Bendigo in Victoria, including Castlemaine, Heathcoate, Kyneton, and St Arnaud. We are a family business who have been working together for over 43 years. During this time we have gained extensive industry knowledge and can look after your vehicle's cooling needs, from passenger cars and 4×4's through to mining or industrial applications.
The quality and service that you'll receive from Natrad Eaglehawk is second to none. We are proud to have received the Natrad Franchise of the Year (VIC) award five times in the last ten years. We pride ourselves on exceptional service with fast turnaround times, ability to address any heating or cooling problem and our friendly, knowledgeable staff.
We are a Capricorn approved supplier so our automotive trade customers will receive extra benefits when buying through us. We also offer a nationwide 3-year warranty through the Natrad radiator specialist's network to offer you peace of mind.
We service customers from the Bendigo area and all around central Victoria.
Natrad Echuca

94 Annesley Street
Echuca
VIC 3564

(03) 5482 6895

More Information

Natrad Ballarat

1/38 Grandlee Drive
Wendouree
VIC 3355

(03) 5338 2200

More Information

Natrad Shepparton

20 Campbell Street
Shepparton
VIC 3630

(03) 5821 8500

More Information
Capricorn Preferred Supplier

Australian Automotive Aftermarket Association (AAAA) Member

2010 Natrad State Franchise of the Year - VIC/TAS

2012 Natrad State Franchise of the Year - VIC/TAS

2013 Natrad State Franchise of the Year - VIC/TAS

2016 Natrad State Franchise of the Year - VIC/TAS

2012 Natrad National Franchise of the Year

AU License Number: AU 02531
What other services do you offer?

We specialise in vintage radiators repairs and servicing, as well as any other materials including copper, brass and alloy. We do complete cooling system checks and have the latest technology to service your vehicles air conditioning systems. We also offer some light automotive mechanical work.

How long have you been a Natrad Franchise?

We have been a Natrad workshop for over 20 years and have seen the Natrad group grow and strengthen to become Australia's largest national radiator repairer network.

How long have you been in the radiator repair industry?

We have been in this industry for 37 years, so we know a thing or two about your vehicle's cooling system and can help with any job.

List what qualifications you and the team have?

Amongst our team of 4, we have a wealth of experience in looking after all kinds of vehicles. We have training in Certificate 3 in Automotive Cooling as well as our Air Conditioning license (AU 02531).

Do you offer a loan vehicle / drop off service?

For customers convenience we can offer a pickup and delivery service for parts in the local area. We do have an air conditioned waiting room with a TV and access to Wi-Fi.

Do you have trusted relationships with any businesses around you?

We have built trusted relationships with car enthusiasts, local business and industry over the years. Visit us for quality workmanship and exceptional customer service.
Natrad Eaglehawk/Bendigo is a part of
We provide specialist repair, maintenance and replacement parts on radiator and auto air conditioning systems for cars and trucks of any size.

Tell Me More