Car Service, Mechanic, Radiators & Auto Air Conditioning Ballarat
Natrad Ballarat - Your Trusted Radiator and Cooling Specialist in Alfredton, Lucas, Cardigan & Miners Rest
Contact Natrad Ballarat Radiator Specialists
Got any questions about our products and services? We're happy to help with your queries. Fill out your details below and we'll get in contact with you shortly.
(03) 5338 2200
More Information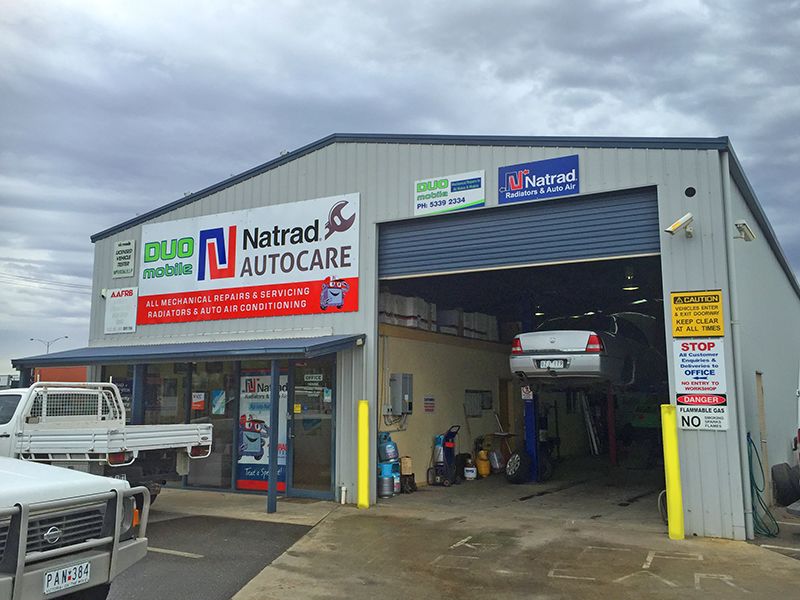 Natrad Ballarat is your one-stop shop for your car's cooling and mechanical servicing and repairs. We also service the nearby areas of  Alfredton, Lucas, Cardigan & Miners Rest. This local business has been in the family for over 37 years and has the experience and know-how to get your car back on the road.
We offer servicing and repairs on your vehicle's cooling systems, including flushing, pressure testing, radiator servicing, and air conditioning maintenance. We also specialise in all automotive services including log book servicing, mechanical repairs, brake machining, LPG installs and maintenance as well as Road Worthy Certificates.
Located on the corner of Grandlee and Villiers Drives, Wendouree – not far from the VicRoads Service Centre – we offer a comfortable waiting room with coffee available. If required we also have a drop off services for your convenience.
We are a part of the only network of radiator replacement and repair specialists in Australia that can provide a manufacturer-supported 3-year nationwide warranty. Our Capricorn supplier status means that automotive trade clients can receive extra benefits.
Natrad Sunshine

192 Duke Street
Sunshine
VIC 3019

(03) 9364 7966

More Information

Natrad Eaglehawk/Bendigo

220 Upper California Gully Road
Eaglehawk
VIC 3556

(03) 5446 7385

More Information

Natrad Moorabbin

18 Keys Road
Moorabbin
VIC. 3189

(03) 9555 5755

More Information
Capricorn Preferred Supplier

Australian Automotive Aftermarket Association (AAAA) Member

2019 Natrad State Franchise of the Year - VIC

AU License Number: AU 30676
What other services do you offer?

We offer all automotive mechanical services including servicing and repairs, Road Worthy Certificates (RWC), LPG installation, servicing and repairs. We have the latest scanning equipment available for air conditioning and gas services and are licenced for all these services.

How long have you been a Natrad Franchise?

We have been a part of the Franchise for the last 6 years.

How long have you been in the radiator repair industry?

We are a family run business that has been in the automotive industry for 37 years and have been doing radiator repairs for over 8 years.

List what qualifications you and the team have?

Within our team of 7 staff we have a qualified mechanic, air conditioning technician (AU 30676), and LPG & RWC licences.

Do you offer a loan vehicle / drop off service?

Yes, for your convenience we offer a drop off service within Ballart. If you plan to stay for a little while we have waiting room that is air conditioned and has a coffee machine.

Do you have trusted relationships with any businesses around you?

We have great relationships and are regularly working with local businesses to ensure that your vehicle is looked after.
Natrad Ballarat is a part of
We provide specialist repair, maintenance and replacement parts on radiator and auto air conditioning systems for cars and trucks of any size.

Tell Me More

Keep your vehicle running smoothly with our Autocare service that includes engine oil and filter changes, logbook servicing, brake, battery and tyre checks.

Tell Me More