Radiators and Auto Air Conditioning Granville
Natrad Granville - Your Trusted Radiator and Cooling Specialist in Parramatta, Strathfield, Blacktown & Greenacre
Contact Natrad Granville Radiator Specialists
Got any questions about our products and services? We're happy to help with your queries. Fill out your details below and we'll get in contact with you shortly.
(02) 9637 3017
More Information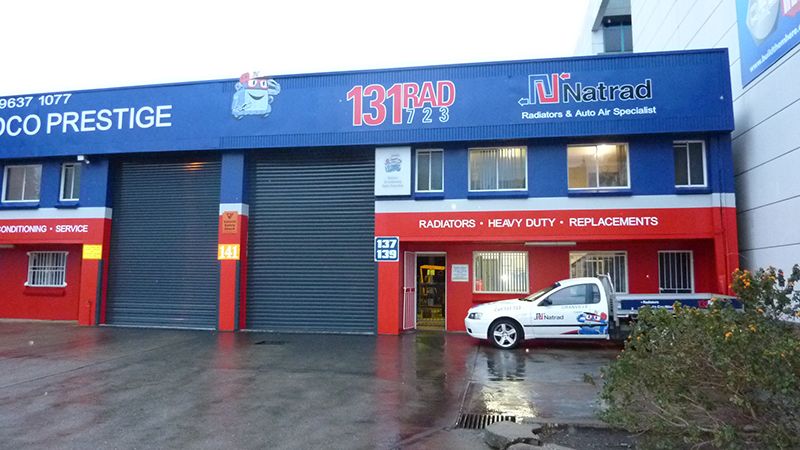 Recognised by the MTA with an award for excellence, as well as numerous industry awards, the team at Natrad Granville are your trusted specialists in vehicle cooling. With experience going back to 1951, you won't find anyone better to keep your car, truck or machinery running cool.
Natrad Granville is your local Natrad Heavy Duty Specialists, the place to go for repairs, cleaning and servicing of radiators, no matter what shape or size. In fact we service repair and replace heat transfer parts for machinery applications including rail, mining and marine. We're also the place to go to clean or replace your Diesel Particulate Filter (DPF).
We are part of the only network of radiator replacement and repair specialists in Australia that can provide a manufacturer-supported 3-year nationwide warranty if you're in the automotive trade, enjoy the benefits of dealing with us as a Capricorn member.
We look after customers from surrounding suburbs including Parramatta, Merrylands, Baulkham Hills, Macquarie Park and Lidcombe.
Natrad Moorebank

12 Seton Road
Moorebank
NSW 2170

(02) 9600 8238

More Information

Natrad Marrickville

10 Chapel Street
Marrickville
NSW 2204

(02) 9557 1079

More Information

Natrad Oak Flats

16 Shaban Street
Albion Park Rail
NSW 2527

(02) 4256 2940

More Information
Capricorn Preferred Supplier

Australian Automotive Aftermarket Association (AAAA) Member

2011 Natrad State Franchise of the Year - NSW/ACT

2018 Natrad State Franchise of the Year - NSW/ACT

AU License Number: AU 12081
What other services do you offer?

Service, repair and replacement of radiators, intercoolers (charge air coolers) and more for many applications including rail, mining, marine heat transfer, and power generation cooling systems.

How long have you been a Natrad Franchise?

We've been a proud member of the Natrad group since 2005.

How long have you been in the radiator repair industry?

There aren't many with more experience than us. We've been in the industry since 1951.

List what qualifications you and the team have?

The team has over 100 years of combined experience in the industry, as well as our Arctick Air Conditioning license (AU12081). We have also been recognised for our professional and quality service with industry awards including MTA Award for Excellence and the Rotary award for Excellence. We have also been awarded Natrad State Franchise of the Year for NSW/ACT in 2011.

Do you offer a loan vehicle / drop off service?

Contact us to organise pick-up and delivery of your parts.

Do you have trusted relationships with any businesses around you?

We've earnt the trust of some big organisations like Cummins, Caterpillar and state government departments, so you can also trust us to look after your cooling solutions.
Natrad Granville is a part of
We provide specialist repair, maintenance and replacement parts on radiator and auto air conditioning systems for cars and trucks of any size.

Tell Me More

We service a wide range of vehicles that are built for Highway Transport, Agricultural, Mining, Road, and Earthmoving tasks.

Tell Me More