Radiators and Auto Air Conditioning Kempsey
Your Trusted Radiator and Cooling Specialist in Kempsey, Grafton, Coffs Harbour, Nambucca, & Macksville
Contact Natrad Kempsey Radiator Specialists
Got any questions about our products and services? We're happy to help with your queries. Fill out your details below and we'll get in contact with you shortly.
(02) 6563 1303
More Information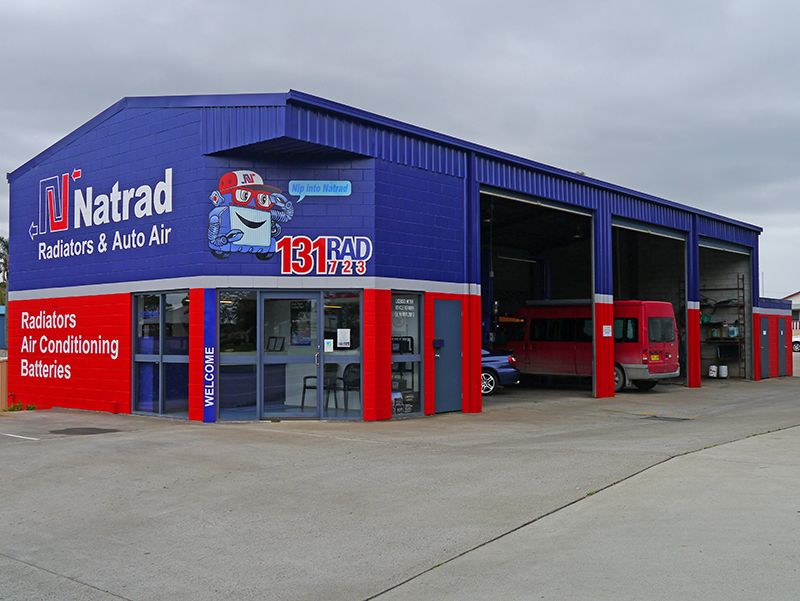 Visit Natrad Kempsey for all your radiator, cooling and air conditioning needs. Servicing the north coast areas of Kempsey, Grafton, Coffs Harbour, Nambucca, and Macksville.
The team at Natrad Kempsey offer radiator and cooling system repairs and have the ability to inspect, repair and re-core old radiators as well as diagnose and repair any air conditioning problems to get your vehicle back on the road. We overhaul all applications, whether that is passenger cars, 4x4s, trucks, agricultural equipment or other large industrial applications.
Vintage cars and machinery are part of our everyday work. Excavators, Forklifts and all Earthmoving equipment are all serviced and repaired. Farm equipment including oil coolers, intercoolers and heaters are also available.
Supplying quality parts we offer a large range including radiators, intercoolers, oil coolers, heaters, air conditioning parts, coolant, batteries and more. We are the only network of radiator replacement and repair specialists in Australia that can provide a manufacturer-supported 3-year nationwide warranty.
Natrad Port Macquarie

93 Hastings River Drive
Port Macquarie
NSW 2444

(02) 6583 2004

More Information

Natrad Armidale

149 Miller Street
Armidale
NSW 2350

(02) 6772 5256

More Information

Natrad Raymond Terrace

9 Port Stephens Street
Raymond Terrace
NSW. 2324

(02) 4987 4113

More Information
Capricorn Preferred Supplier

Australian Automotive Aftermarket Association (AAAA) Member

AU License Number: AU 04574
What other services do you offer?

At Natrad Kempsey we offer repair maintenance services on radiators, oil coolers, and intercoolers as well as air conditioning servicing. We specialise in all sized cooling applications, including agricultural, trucks and large industrial applications.

How long have you been a Natrad Franchise?

We have been involved in the Natrad Franchise since 1993.

How long have you been in the radiator repair industry?

The business owners have been in the radiator industry since 1984 and know a thing or two about all manner of vehicle cooling systems.

List what qualifications you and the team have?

With over 30 years of experience in the industry we have the skills and expertise to ensure your vehicles stays cool on the road.

Do you offer a loan vehicle / drop off service?

We offer a drop off and pick up service around the local area to help you get the rest of your day back on track.

Do you have trusted relationships with any businesses around you?

We are regularly dealing with many businesses in the area and have built trusted relationships to offer quality cooling solutions. You know if they rely on us, you can too.
Natrad Kempsey is a part of
We provide specialist repair, maintenance and replacement parts on radiator and auto air conditioning systems for cars and trucks of any size.

Tell Me More