Need a replacement EGR? Here are the costs
Noticed your EGR cooler hasn't been up to scratch recently? Depending on the issue, the part may need to be replaced. If that's the case, Natrad is here to help. We've collated an all-you-need-to-know guide to simplify the replacement process and give you an idea of what to expect financially.
An EGR cooler is an important part of the EGR and overall cooling system. It can have serious consequences if it fails. Issues with a bad EGR cooler can include:
increased emissions
reduced performance
severe engine damage
These issues can be mitigated if you act fast, and that's why it's important to diagnose the problem as early as possible.
Think that you might have an EGR cooler issue? You can read here about how to pinpoint issues with your EGR cooler.
Natrad has a range of quality EGR coolers suited to a wide variety of vehicles. If you think you might need your EGR cooler replaced, read on to find out out more about our EGR coolers and intercoolers.
The complete EGR cooler replacement cost guide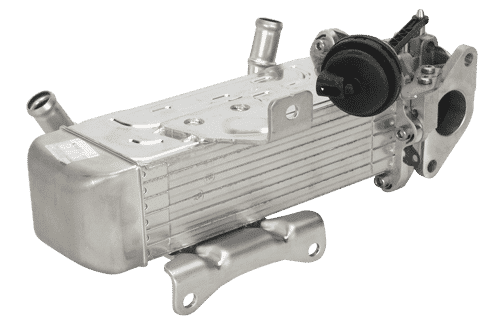 So, you need a new EGR cooler but don't know where to start? Let's look at influencing factors on cost. There are several which impact replacement costs including the part itself, labour, location, availability and vehicle type just to name a few.
Part cost
For a replacement EGR cooler you could be looking at between $270 and $3700, which will vary from case to case. The higher end pricing usually applies to modified or high performance engines, so for a passenger car you are likely looking at the lower end of the spectrum.
Natrad has a wide range of quality EGR coolers available from workshops nationwide. To find out more about specific part replacement costs for your EGR cooler, enquire in-store and talk with our qualified team.
Labour
This factor depends entirely on what vehicle you have. Engine bays are all built differently and depending on how easy it is to access your EGR cooler, it will influence the cost of labour. To find out what you may be looking at, contact your nearest Natrad workshop and request a detailed quote.
Location
Where you are situated can influence pricing for most things, especially if parts are not readily available in your location. It's best to ask your local store for better ideas on what the expect. As mentioned above, your closest Natrad workshop can provide a quote and discuss accessibility of parts.
Other influences on the cost of replacing EGR coolers
Something that may also influence costs is whether other parts have been damaged in the system. This can occur because of things like:
thermal shock
electrolysis
coolant contamination
They are not necessarily linked, but these types of damage can occur simultaneously (although this is a somewhat rare occurrence). If multiple parts need to be repaired or replaced, there is likely going to be a higher cost for repairs.
If you are in need of multiple replacement parts, Natrad technicians can guide you on the best choice for your vehicle.
What info does Natrad need from you?
If you are certain of EGR cooler failure, then this is great to disclose as soon as possible. Any other symptoms or problems with performance is also useful so technicians know where to start looking.
Natrad can then perform a cooling system check on your vehicle and further investigate any possibilities. But none of that can get underway until one of our specialists gets to look at your car and verify what is going on. Get in touch with your closest Natrad workshop. You can call or email, and an experienced technician will get back to you as soon as possible.
With heaps of parts available, our Natrad team can help you with a quality EGR cooler replacement at an affordable price. Read more about our parts and expertise in replacing EGR coolers and intercoolers.
https://natrad.com.au/wp-content/uploads/2021/08/the-complete-egr-cooler-replacement-cost-guide-hero.jpg
550
1000
Digital360 Editor
https://natrad.com.au/wp-content/uploads/2017/01/logo-main-2.png
Digital360 Editor
2021-08-11 13:55:34
2022-02-09 15:00:55
The complete EGR cooler replacement cost guide