Find out how often your car requires aircon servicing
With the harsh Australian climate, it's important to consider the state of your car's air conditioner all year round. Don't wait until it's 40 degrees and you're stuck in a sweltering hot car without relief.
Is your car struggling to handle the hot weather? Nip into Natrad for a car air conditioning service before the heat hits hard.
If your air conditioning system has developed a leak, the refrigerant will be lost. With insufficient refrigerant gas in the system, the air conditioner can't blow cold enough air. Get a regular service to keep your air conditioner delivering crisp, cool air even on scorching hot days.
What is a car air conditioning re-gas?
An air conditioning re-gas is performed by a licensed refrigerant technician. A special gas recovery unit is used to remove the gas from your car air conditioner safely to allow checking for any required repairs.
The recovery unit weighs the gas to determine if any has escaped. If the refrigerant gas level is too low, the technician will top up the gas to a correct operating level.
Why is it important to get your car air conditioner re-gassed?
A maintained air conditioning system will ensure that you stay cool during summer, helping you to concentrate and be a safer driver. While in winter, using the A/C and heater together is the fastest way to demist your windscreen.
During an air conditioning re-gas, the technician will check the critical components of your car air conditioning system, including the drive belts, hoses, valve and thermostats, condenser and the air vent temperature.
How often should your car air conditioner be re-gassed?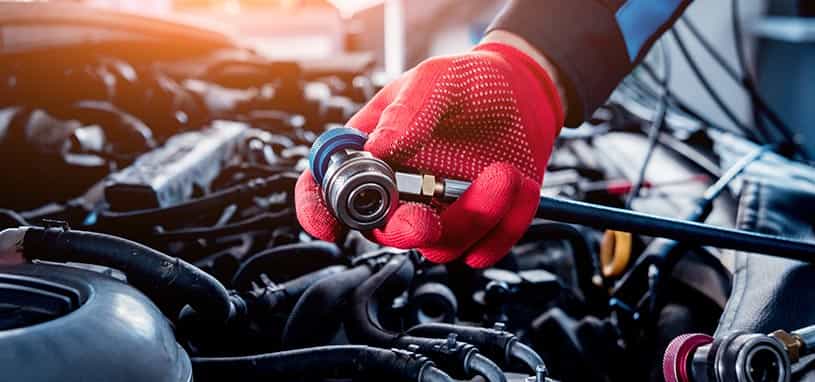 You should get your car inspected by an auto air conditioning technician every 1-2 years, or if you detect a problem. It's a good practice to have an air conditioning check done once a year. Most people will get their car air conditioner serviced in the lead up to summer when it's top of mind.
Tips to increase the lifespan of your car air conditioner:
Run your air conditioner every few weeks, even in winter. This circulates lubricant carried by the gas, helping to keep the system in good working order by preventing the seals from becoming dry and leaking.
Use windshield shades. Starting with a slightly cooler car reduces the load on the car air conditioner to bring the cabin to a comfortable temperature.
Choose the 'recirculate' option to cool the inside of the cabin faster on short trips. Switch back to normal function once the car is cooler.
Wind down the rear windows a fraction to allow hot air to escape for a few minutes to increase the effectiveness of the air conditioner.
Have a service to ensure the receiver drier and compressor are replaced when their service life ends.
Replace the cabin air filter regularly. This is an inexpensive job and maintains the quality of the air you breathe during driving.
What issues can cause gas to leak from your car air conditioner?
Refrigerant gas can leak from your car air conditioner if there's a broken seal, cracked hose or corrosion to any of the air conditioner parts. A leak could be caused by damage from an accident or debris on the road.
If moisture gets into the air conditioner system, this can mix with the refrigerant to form an acid which can cause tiny leaks. If you suspect your car has a refrigerant leak, don't hesitate to get it inspected by a qualified technician. Getting it fixed sooner will reduce environmental damage from the refrigerant, as well as minimising the cost of repairs.
What are the warning signs that you need a re-gas?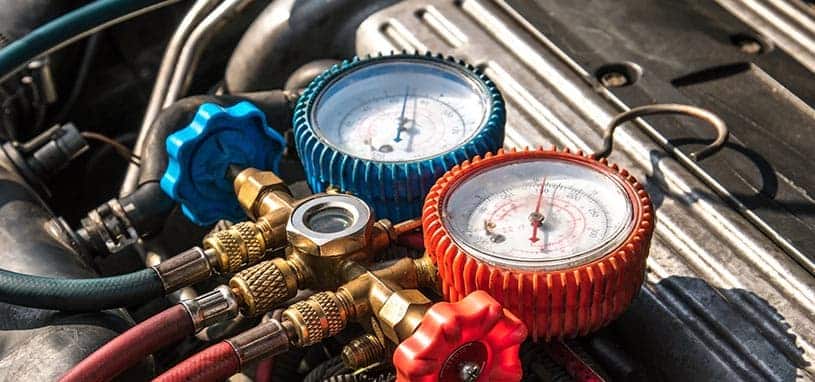 One of the main signs that your car air conditioner needs a re-gas is that your air vents blow hot air, even with the car air conditioner set to the coolest setting. This could be due to a failed part, such as the compressor, blower motor, evaporator or thermostat valve, or it could mean you have a gas leak.
Get an air conditioner re-gas promptly to determine the problem and minimise the damage to your air conditioner.
What are the risks of getting a cheap air conditioning re-gas?
Beware of cheap replacement refrigerant gas as it may not be one that your air con system was designed to use and some alternative refrigerants are highly flammable. If someone offers to perform a 'backyard' re-gas for you, check if the gas they'll put back into your car meets the vehicle manufacturer's requirements as an inert gas, such as R134a.
One of the reasons why alternate gas can be much cheaper is the repairer avoids paying the carbon tax and licence costs. Cars aren't designed to carry flammable refrigerant gas, and it'll likely damage your car's air conditioning system.
While the correct gas is more expensive, it will ensure the safety of the driver and passengers in your car.
How do I find a qualified car air conditioner technician?
Natrad's car air conditioning technicians all hold the Arctic licence from the Australia Refrigeration Council (ARC) for safe handling of refrigerant gas. The licence is displayed at the store. When you use an Arctic qualified technician, you can be confident that the refrigerant gas will be handled safely and according to the regulations.
Natrad can repair and re-gas a car or truck air conditioner, so get in touch to book a service before summer heats up.
https://natrad.com.au/wp-content/uploads/2018/11/how-often-do-you-need-to-get-your-aircon-regassed_-hero-image.jpg
550
1000
admin
https://natrad.com.au/wp-content/uploads/2017/01/logo-main-2.png
admin
2018-11-20 13:42:06
2020-01-10 13:50:54
How Often Does Your Car's Aircon Need Re-gassing?