Common electric car radiator fan problems and how to fix them
If your car's engine is overheating and you suspect the problem lies with your electric radiator fan, then try these troubleshooting tips.
Hint: Before attempting DIY car repairs, it's always a good idea to have a repair manual for your particular make and model of car on hand. For example it can explain the operation of your car's cooling system and which switches and sensors and other parts may affect the operation of your radiator fan.
If you car's overheating don't lose your cool, nip into Natrad. We're experts on the cooling systems of all cars, trucks, 4WDs, performance vehicles and heavy machinery. We operate Australia's largest network of workshops specialising in cooling system repairs, and we supply a huge range of radiator fans, radiators and other cooling system parts.
Troubleshooting an electric radiator fan
Warning: Electric radiator fans may come on unexpectedly even if your car's engine is not running, so keep your hands and tools away from the fan blades at all times.
1. Fan check
As a first step, ensure that the cause of your overheating problem is definitely the fan. Open your car's bonnet, start the engine, set the air conditioner to its highest setting and allow the car to idle until the engine reaches operating temperature. (Keep an eye on the temperature gauge to ensure your overheating engine doesn't get dangerously hot.)
If the fan does come on, then the fault lies in some other part of your engine cooling system. Check your coolant level (once the engine has cooled) and if that seems correct, then the problem could be a faulty radiator, thermostat or water pump. Bring your vehicle into your nearest Natrad workshop and let one of our qualified technicians take a look for you.
2 . Fuse check
If you have established that your electric radiator fan isn't working, a good place to start troubleshooting is by checking the fuse. Use your owner's manual or repair manual to establish where your car's fuses are, and which one controls the cooling system.
If the fuse is blown, then replacing it should take care of the problem. If it blows again after being replaced, this suggests a problem with the radiator fan motor.
3. Fan wiring and power supply
If the fuse is OK, check your fan's wiring and power supply. There should be two wires providing positive and negative feed to the fan. Unplug the lead from the fan and check the terminal and lead for signs of damage, corrosion or bad connections.
Using a voltmeter, ensure there is DC current present. If there is no power being supplied to the fan even when the engine is at operating temperature, then the problem may lie with your fan relay or temperature sensor.
If there is voltage being supplied to the fan but it's not turning, this suggests your fan is faulty and needs to be replaced. If you don't have a voltmeter, you can confirm this by running DC power directly to the fan.
Buying a new radiator fan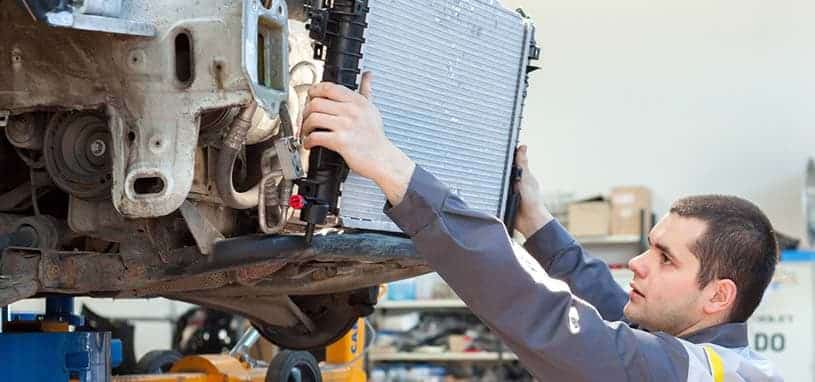 If you need a new electric radiator fan or any other parts for your car's cooling system, make Natrad your first port of call. We carry a massive range of cooling system parts, from electric fans to radiators and water pumps, thermostats, tanks and all related parts such as belts, hoses and fittings.
We supply industry-leading fan brands including Spal, Maradyne and Davies Craig, and our range includes electric fans for radiators and condensers, oil and transmission coolers, evaporators, heaters, intercoolers and blowers for ventilation.
If you intend replacing your car's radiator fan yourself, ensure that the replacement part has the right CFM rating for your vehicle. Speak to a Natrad technician, as we have all the parts you'll need for most popular passenger vehicles as well as for aftermarket, upgraded and high-performance models, with fans of up to 3100 CFM.
Custom cooling systems for modified cars
We also supply custom cooling systems for street cars, classic cars, race vehicles and motorbikes.
If you can't find the cooling system parts with the performance and dimensions that you're looking for, then we can order custom radiators, oil coolers, charge air coolers and other parts on your behalf. Speak to us to learn more.
Let us help
If you don't have the time or equipment you need to fix your overheating car yourself, then bring it in to Natrad. We'll not only check your radiator fan, we'll look over your entire cooling system for you.
Our workshops have the latest diagnostic equipment, and our fully trained technicians have an average of 10 years' industry service.
We'll identify any issues, determine which parts may need servicing, replacing or repairing, and then discuss this with you before commencing work.
And Natrad is Australia's only national network of radiator replacement and repair specialists that can provide a true, manufacturer-supported 3-year nationwide warranty on selected parts.
https://natrad.com.au/wp-content/uploads/2019/11/Common-radiator-fan-problems-and-how-to-solve-them-hero-image.jpg
550
1000
Digital360 Editor
https://natrad.com.au/wp-content/uploads/2017/01/logo-main-2.png
Digital360 Editor
2019-11-14 11:50:24
2021-09-03 11:08:21
Troubleshooting your car's radiator fan