Receive a Free Cooling System Check with Natrad
Claim your voucher
Why you need an Engine Oil Cooler
An engine oil cooler keeps the oil viscosity within the optimal range. Oil cooling is essential for modified cars, track, racing, or high performance cars. Some passenger cars even use small oil coolers to extend the oil change intervals.
Keep engine oil at the correct temperature with a transmission oil cooler. High performance oil coolers are available for racing, extreme 4WDing or heavy towing. Select an off-the-shelf replacement or ask for a specific custom design. Nip into Natrad for oil cooling.
How We Can Help

A specialist Natrad technician can expertly install a new engine oil cooler
Access the largest range of OE and aftermarket radiator parts in Australia

Nationwide warranty and support on all parts installed on your vehicle

Largest range of radiator and vehicle cooling workshops across Australia
What is an Engine Oil Cooler?
An engine oil cooler is essential for any engine operating under pressure. Whether you are towing a heavy trailer or street racing, we recommend using an engine oil cooler.
An engine oil cooler provides many benefits. An oil cooler may extend the life of your engine. It will also extend the oil change interval.
We supply oil cooler kits that contain hoses and fittings for easy installation. Engine and transmission oil coolers are available.
High flow, clog-resistant oil coolers will withstand heavy loads and vibrations. These performance oil coolers protect your engine in the toughest working environments.
We have off-the-shelf oil coolers for most vehicles. The shape and size of the oil cooler you need may vary from those pictured. Ask your local Natrad technician for oil cooler options to extend your engine's life. We can even order a custom designed oil cooler for unique applications
FIND YOUR NEAREST STORE
Enter your postcode below to find your closest Natrad location
Free Cooling System Check Offer
Get more value when you nip into Natrad. We're offering a Free Cooling System Check as thanks for choosing us. T&Cs apply.
Related Articles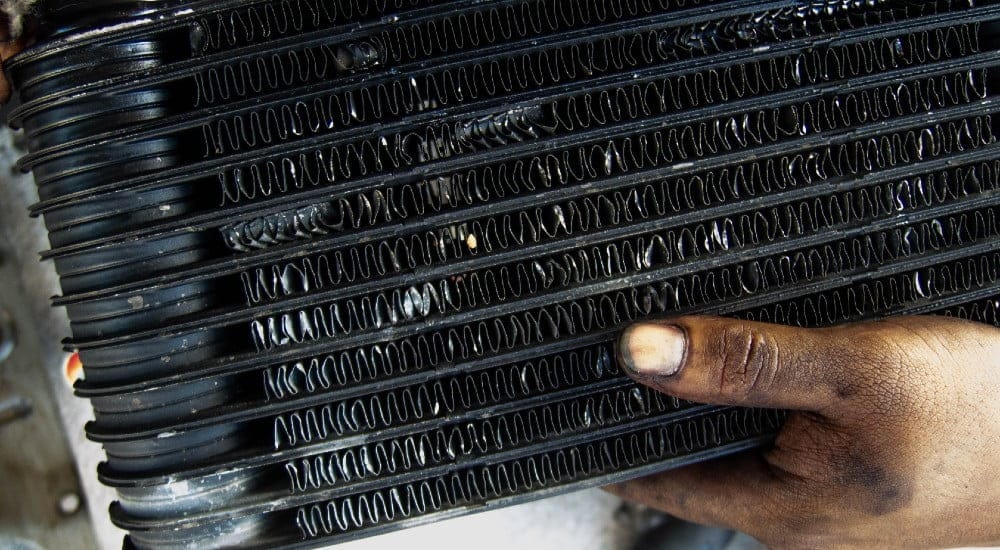 FAQs
Does my car need an oil cooler?

If your car operates at high temperatures for extended periods of time, an engine oil cooler can help. An oil cooler will help to improve engine performance and extend engine life. Even some new cars with downsized engines also use small engine oil coolers. These smaller engines operate closer to the temperature limit of their materials.

When does the oil cooler need servicing?

An oil cooler needs checking when:

engine oil is leaking from the front of the car
the engine temperature gauge is reading too hot
the engine oil level is lower than it should be

A local Natrad technician can perform the check to determine the source of the problem.

Does my oil cooler need replacing?

If the oil cooler develops a leak, it needs to be replaced. If this is the case, it's a good time to change the engine oil and filter too.

When you suspect an oil leak, get your vehicle checked by a technician as soon as possible. Driving with an oil leak can lead to expensive engine repairs.

How do I care for my oil cooler?

Changing your oil and oil filter at regular intervals will prevent sludge build up and prolong the life of your oil cooler.
Contact Us
Need information about a specific oil cooler application? Ask one of our radiator supply specialists about your oil cooler requirements.
Send enquiry
Got any questions about our heating and cooling services?
Ask us, and we'll get back to you soon.