Radiators and Auto Air Conditioning Whyalla
Your Trusted Radiator and Cooling Specialist in Whyalla, Port Augusta, Kimba, Cowell & Port Piree
Contact Natrad Whyalla Radiator Specialists
Got any questions about our products and services? We're happy to help with your queries. Fill out your details below and we'll get in contact with you shortly.
(08) 8645 2966
More Information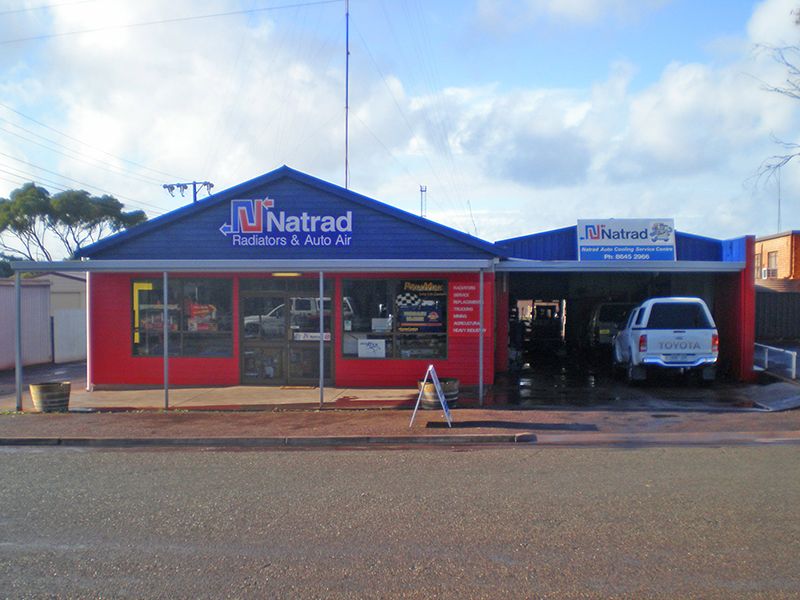 Natrad Whyalla is your local Natrad for the eastern Eyre Peninsula including Port Augusta, Kimba, Cowell, and Port Piree. This business is conveniently located in the main street and offers all cooling services including radiator flushing and repairs, intercoolers, coolant, air conditioning services as well as full mechanical work.
We have been in the radiator repair industry for 27 years and have the experience and know how to service and repair any cooling system, from passenger cars, performance and racing vehicles, 4x4s through to mining applications, and heavy duty trucks.
We have strong relationships with many businesses around Whyalla and we are a Capricorn preferred supplier so can offer trade customers extra benefits. We also have a nationwide 3-year manufacturer warranty available on parts so can offer you peace of mind.
Natrad Wingfield

344 Hanson Road
Wingfield
SA 5013

(08) 8347 2350

More Information

Natrad Port Lincoln

Shop 1 / 13
Mortlock Terrace
Port Lincoln

(08) 8682 2649

More Information

Natrad Mildura

67 Orange Avenue
Mildura
VIC 3500

(03) 5023 5248

More Information
Capricorn Preferred Supplier

Australian Automotive Aftermarket Association (AAAA) Member

2010 Natrad State Franchise of the Year - SA

2013 Natrad State Franchise of the Year - SA

AU License Number: AU 08018
What other services do you offer?

At Natrad Whyalla we offer simple cooling checks right through to complete heating and cooling repairs. Combine this with our ability to offer full mechanical servicing makes us your 1-stop shop for locals and travellers.

How long have you been a Natrad Franchise?

We have been involved in the Natrad Franchise since 1990 and over that time we have seen the Natrad network grow into the quality network it is today.

How long have you been in the radiator repair industry?

We started with Natrad 27 years ago and have been in the industry the whole time; we have seen the radiator industry change and new technologies be introduced.

List what qualifications you and the team have?

Within our Natrad Whyalla team we have a variety of qualifications to ensure our service is second-to-none. We have Certificate 2 & 3 in retail, qualified mechanics and diesel mechanics, and have our hydraulic qualifications as well as our Air Conditioning license.

Do you offer a loan vehicle / drop off service?

We are conveniently located in the main street and have a waiting area. If you require we also offer a drop off service available.

Do you have trusted relationships with any businesses around you?

Yes, over the years we have developed strong relationships with businesses around us including BIS Industries, Harsco, Genesee & Whyoming, Lucas, Komatsu, BGC Contractors, Exact Mining, Cavpower & Hitachi.
Natrad Whyalla is a part of
We provide specialist repair, maintenance and replacement parts on radiator and auto air conditioning systems for cars and trucks of any size.

Tell Me More