YOUR NEAREST NATRAD
Enter your postcode to find your nearest Natrad location.
Why Choose Natrad?

Natrad is Australia's most trusted name in radiators and air conditioning
The largest network of specialist radiator workshops in the country

Access to a big range of radiators and air conditioner replacement parts.

A 3-year nationwide warranty on all radiator replacements
About Us
Natrad's heritage dates back to 1922 with Australian radiator manufacturing. We have the largest network of specialist radiator workshops in Australia, so it's easy to find your nearest Natrad
We're the market leaders in radiator and air conditioning repairs, replacement, and maintenance. We service a diverse range of vehicles including cars, 4WDs, trucks, high performance vehicles, and heavy machinery.
We have access to Australia's most comprehensive range of radiator and cooling system parts. No matter if it's big or small, we have the quality parts to keep you and your vehicle cool.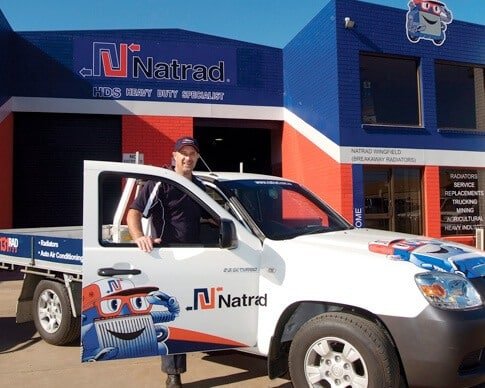 Heavy Duty Vehicle Specialists
When your heavy duty vehicle's cooling system is underperforming, who do you call? Our Heavy Duty Specialist workshops provide a range of industrial and heavy duty vehicle cooling solutions. Find your local Natrad Heavy Duty Specialist workshop and book an appointment today.
Your nearest Natrad
Find your closest Natrad workshop and book your free inspection today
Our Partners
At Natrad, we take pride in offering high quality cooling parts. We have many industry-leading car radiator brands and can supply custom built Australian-made Adrad radiators for you upon request.


What Our Customers Say
I write as a very grateful customer of Natrad, Port Macquarie NSW. I called in with major cooling problems while on my way to Mackay QLD, towing a trailer-load of household items for my son. Phil at Natrad treated me like family. He dropped everything and went straight to work on my Commodore. In just 3 hours the entire cooling system was fixed. I am so happy with the treatment I received. Many thanks for your great work!

C. Moore

'Towing a caravan from Wollongong to Nelson's Bay, my vehicle was losing coolant. I urgently needed assistance. Darren at Natrad, Raymond Terrace NSW was able to fix my car the next day. He not only provided exceptional service, he also gave me a good deal on the price. If Natrad had more blokes like Darren working for them I'd buy shares!'

A. Green
Contact Us
Got any general queries about our business? Fill out the form below, and we'll get back to you shortly.